Welcome To Starcross Fishing & Cruising Club
Welcome to the cruising section of The Starcross Fishing and Cruising Club. Please join us cruising with our well established friendly riverside club. We like to encourage as many people as possible to enjoy cruising in our beautiful local waters, and extended areas.
To help people achieve this and to enjoy the camaraderie of cruising in company we run a cruising schedule.
We believe that cruising in company, apart from adding to the experience, can offer friendly reasurance, and peace of mind, where needed.
Many of our club cruises go to familiar ports such as Torquay, Babbacombe, Brixham or Dartmouth, but for those of you who would like to be more adventurous, we may also cruise towards Lyme Regis, Cornwall and the Isles of Scilly, the Channel Islands and the Brittany Coast. Each published cruise offers a named lead, for member contact.
We do welcome visiting cruisers, as well as other local clubs / boating folk, in joining us at any time. We have a club visitors mooring available for a minimum charge. The location is in deeper water and is suitable for vessels up to 10m long. Whilst fluctuations in the depth will occur, it was 3m at MLWS in 2016, The GPS co-ordinates are;
N 50 37.390 W 003 26.489
You may use this facility as a visitor, though the club is unable to accept any liability whilst you are there.
For further information please feel free to contact me in the following ways:
E-mail: Nigel sfcc-sec@outlook.com     Neil neil@neilewins.com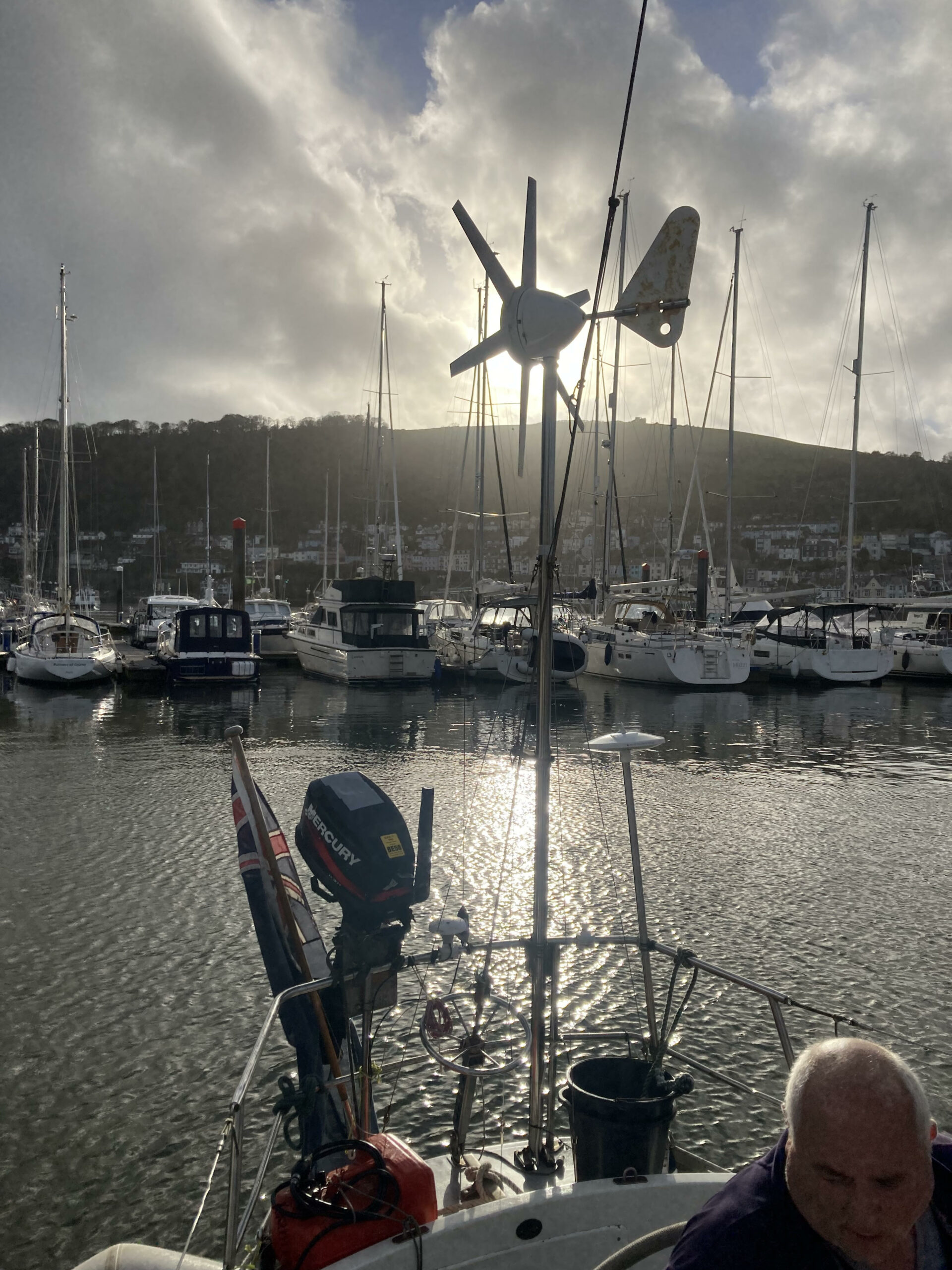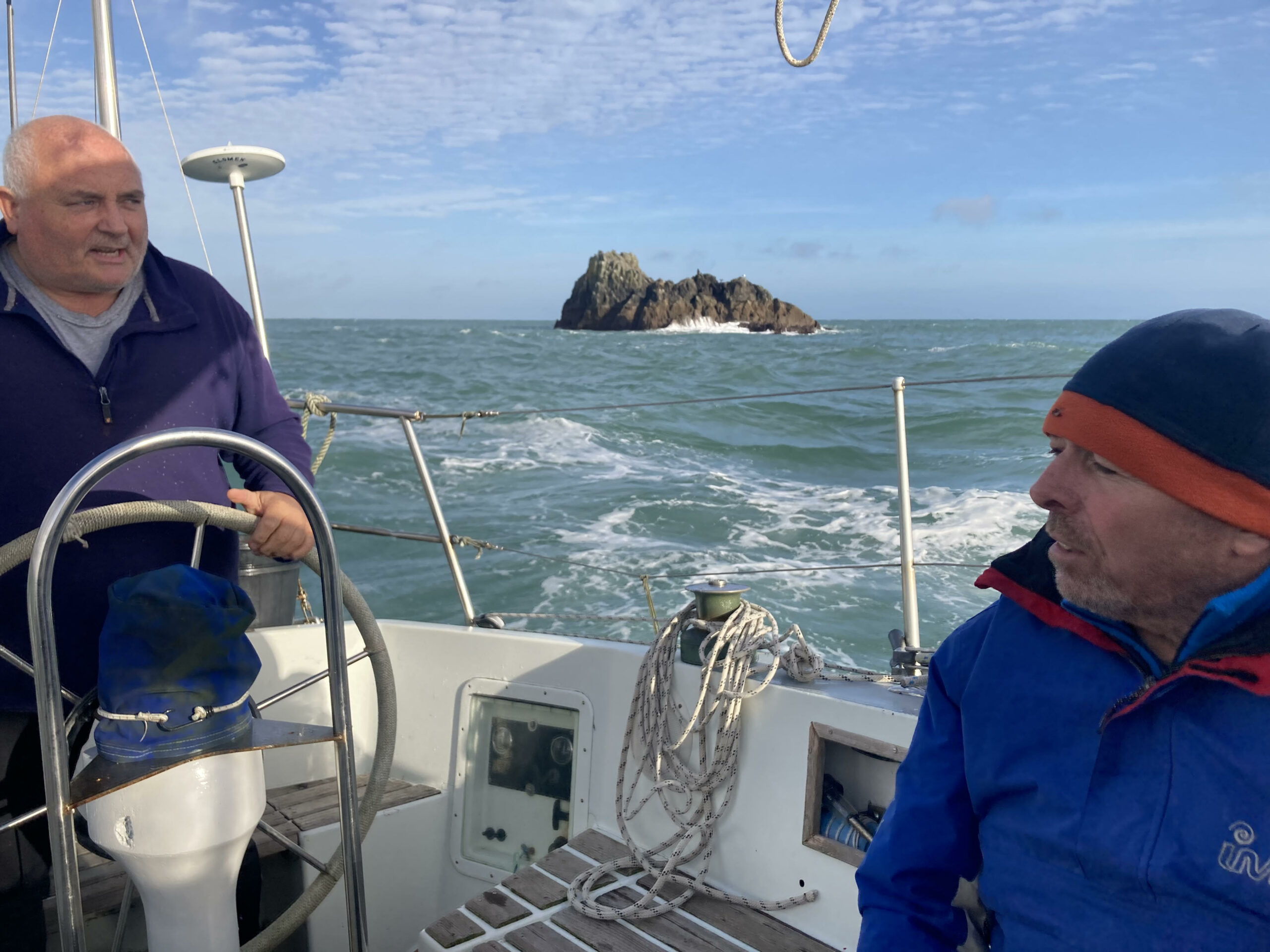 Cruising Award Winners for the 2022 Season

Yandle Trophy – Offshore Cruiser Racing.
Andy Wright, "Gilkin" Sigma 38. SW Peaks Race – 2/8.
                                     _____________
Seamanship Trophy – For Demonstating Good Seamanship.
Kevin Brown Martin, "Delphi" Southerly 32. Attending to a French yacht needing a tow in Chenal de l'Île-de-Batz (nr. Roscoff).
                                      _____________
Rowe Shackle Cup – Best Kept Log.
Andy Wright, "Gilkin". Neat, tidy, and readable log.
                                      _____________
Langdon Long Distance Trophy – Longest Cruise.
Kevin Brown Martin, "Delphi". Exmouth-Channel Islands-North/South
                                      _____________
Brittany-Falmouth-Exmouth. 939 miles.
West Exe Trophy – Awarded this year for exceptional training result.
Anne-Marie James. 100% SRC VHF exam assessment.
                                      _____________
Gale Cruising Shield – Notable Cruise in a Boat <36′.
Kevin Brown Martin, "Delphi". Mylor-Weymouth-Mylor. 208 miles.
                                      _____________
Harris Trophy – Most Miles Logged in 7 Days.
Andy Wright, "Gilkin". Plymouth-Guernsey-Plymouth. 180 nm.
                                      _____________
Shapter Cruising Trophy – Most Miles Logged in One Season.
Neil Ewins, "Sea Pigeon". 1,425 miles.
                                      _____________
The Piney Trophy – For a First Channel Crossing.
Paul & Becky LeMilliere, "Lively Lady".
+ Terry Riddler & Linda House, "Popoff".
                                      _____________
Tomlinson Trophy – Saving Life at Sea.
SFCC Barman Henry McIlroy. Two person rescue in the Exe Estuary.
                                      _____________
Blue Boy Trophy – Achievement by a Newcomer.
Dan Tucker. For personal training and practical qualifications.
                                     _____________
24 Hour Run Trophy – Furthest Distance in 24 Hours.
Kevin Brown Martin, "Delphi". Roscoff-Falmouth. 98.4 miles.
                                     _____________
The Sampson Cup – Personal Cruising Achievement.
Anne-Marie James, "Rachel Louise". For her interests in training and improving her boating experiences.
                                     _____________
The Future Cruising Award (new) – Promising Younger Member.
Henry Boon. For enjoying himself so much on his Dad's boat, and especially the rather uncomfortable Sharpham Small Boat Cruise.
Cruising Award Winners for the 2022 Season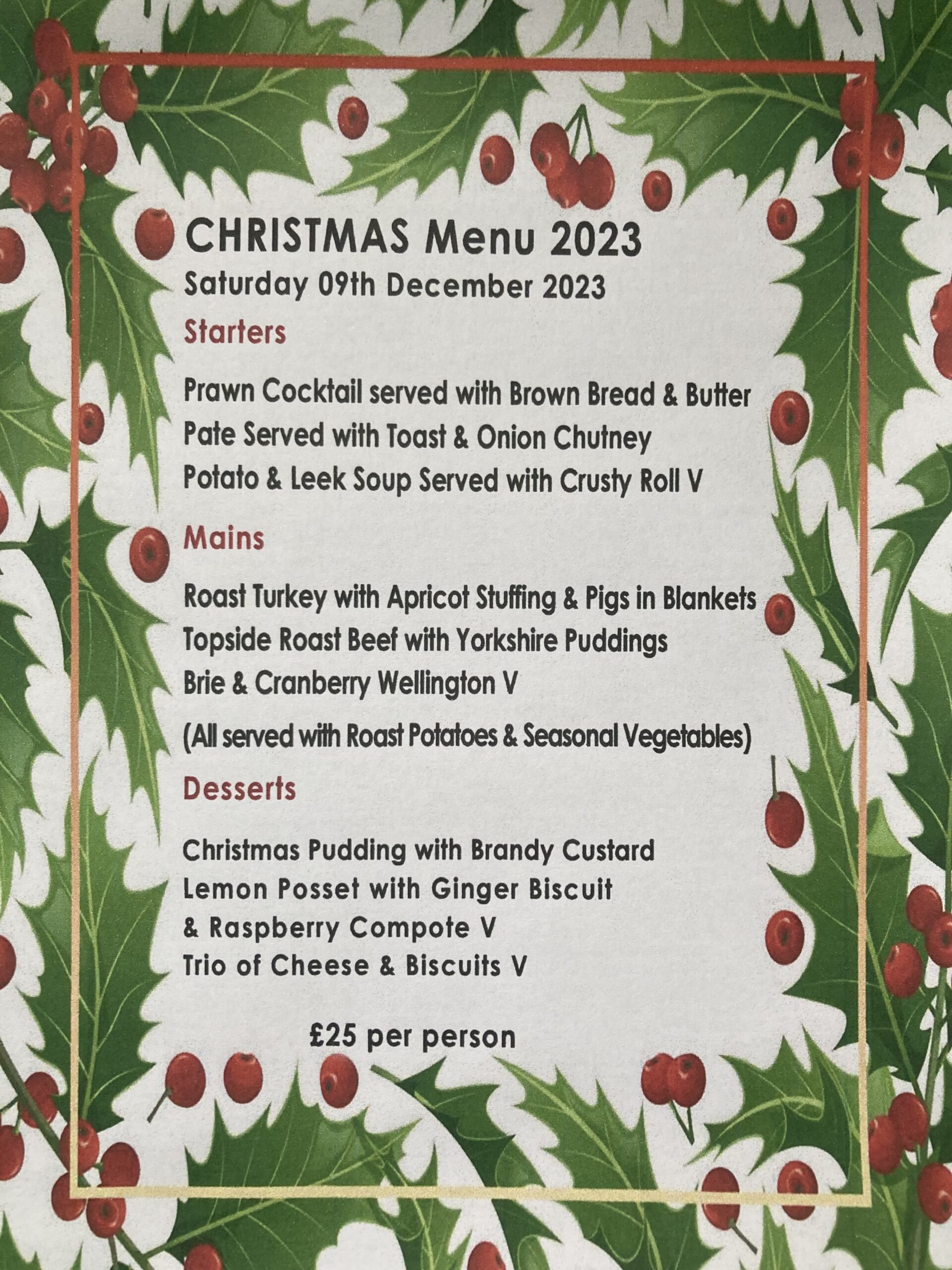 SFCC Christmas Party

Places are booking up fast – don't miss out on a great meal by Claire from the Atmospheric. Add your name to the list on the club noticeboard with your menu choice!
Future SFCC Events
Saturday 9th December – Christmas Dinner
Saturday 16th December – Christmas Draw
Sunday 31st December – New Years Eve Party
Sharing expertise and experience amongst members
At SFCC we are friendly and informal. We also know that if you're new to boating it's often helpful to learn from people who are a bit more experienced. That's why we hold Friday Forums throughout the winter (when we aren't using our boats) to learn new methods or just hear a talk about an interesting topic.
The 'closed season' winter / spring programme of events for 2023, organised by Steve Cowell our Fishing Secretary, is now complete.
More dates to be confirmed soon.
Any enquiries or suggestions for future forums should be directed to: forum.sfcc@gmail.com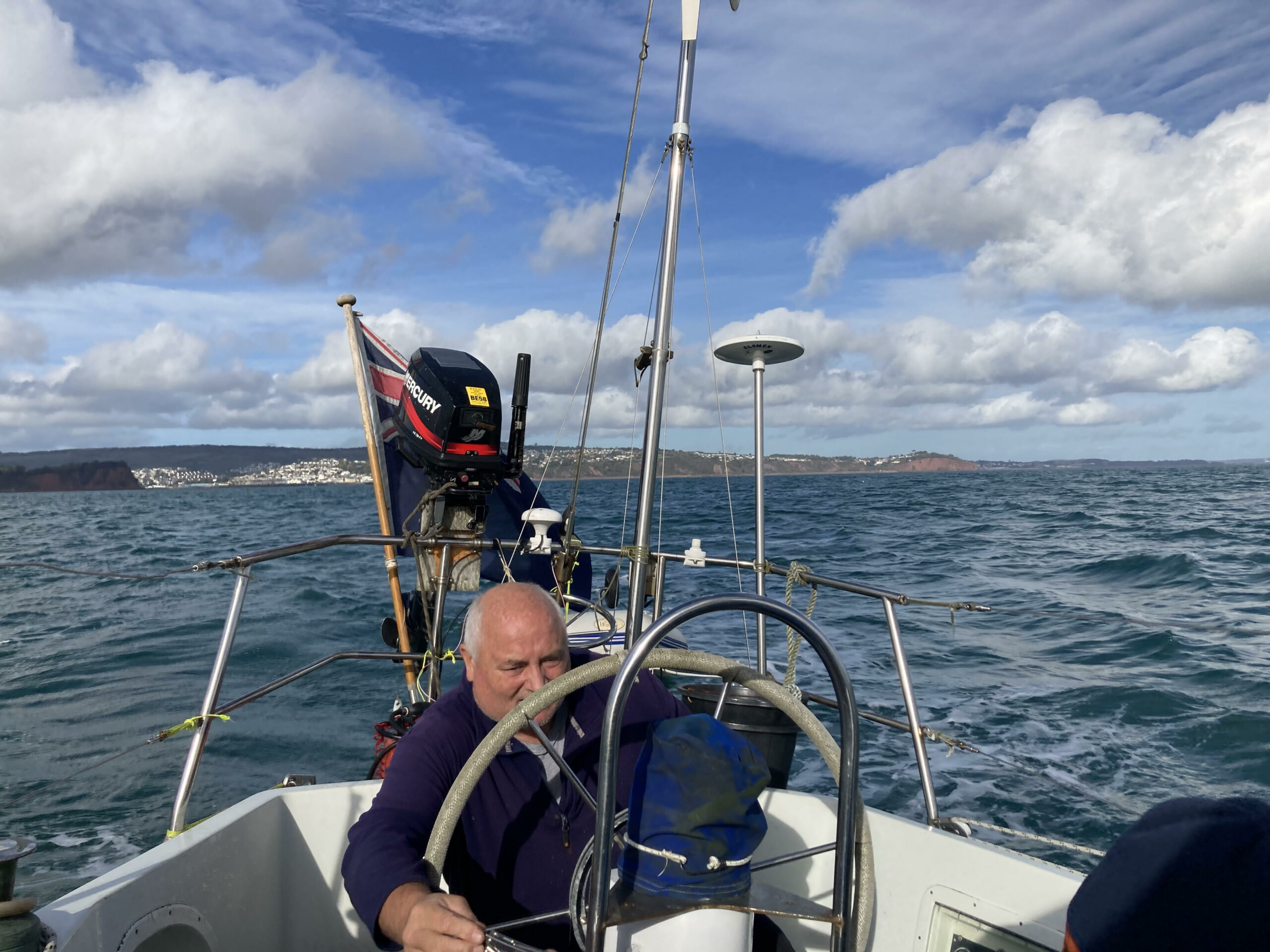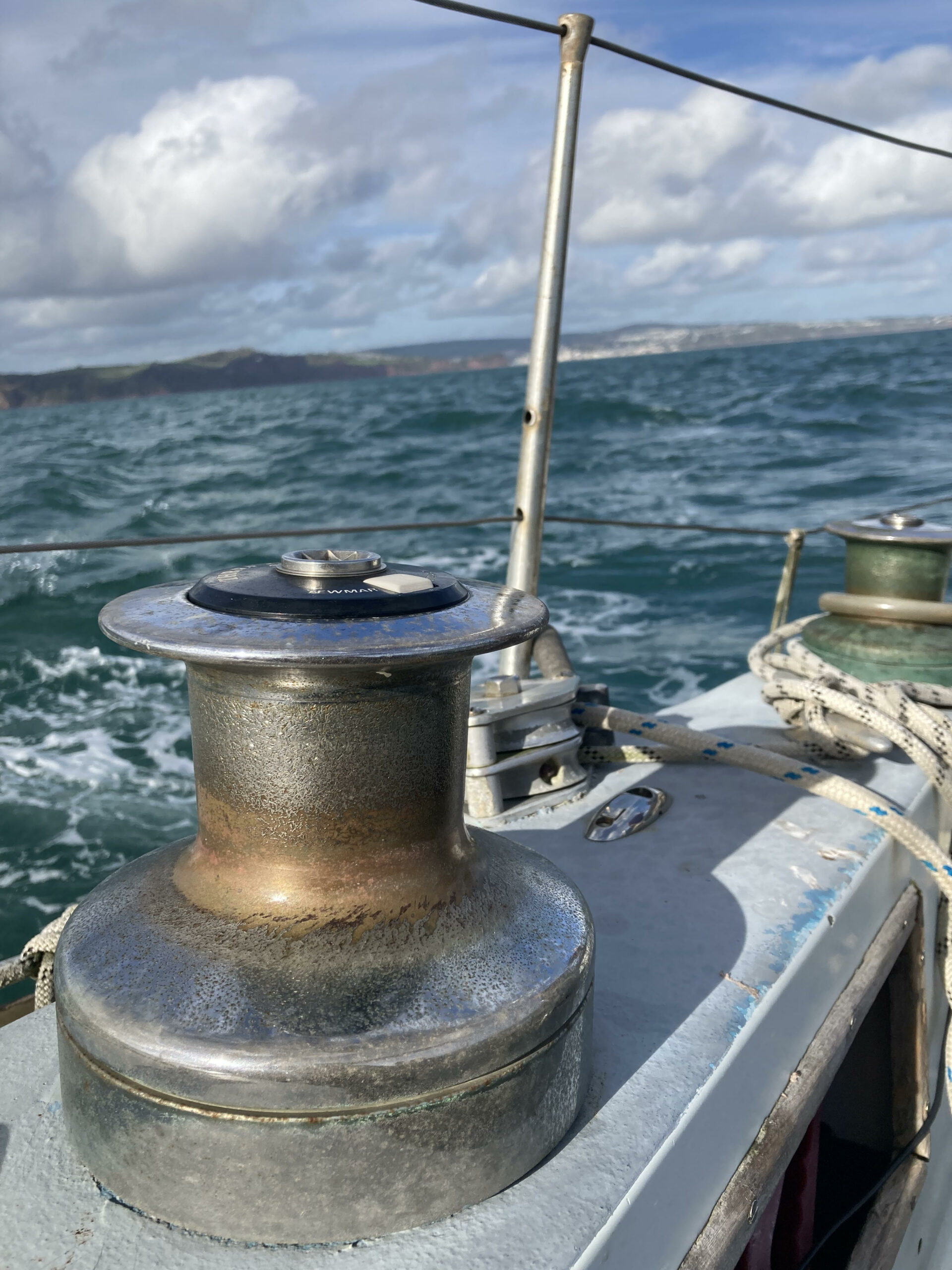 SFCC Commodore's Report – December 2023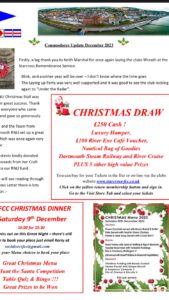 Our Members bar is open each evening other than Mon & Wed.
Tues 8pm – 11pm, Thurs & Fri 7.30pm – 11pm, Saturdays 6.30pm – 11pm, Sundays 6pm – 9pm
Starcross Fishing & Cruising Club, Brunel Tower, The Strand, Starcross, Devon, EX68PR
Pontoon Location:
GPS: 50°37'.656N / 003°26'.731W
W3W: obey.marathons.intelligible
North Mooring PC741 location:
GPS: 50°37'.674N / 003°26'.621W
W3W: forum.marathons.rush
South Mooring PC648 location:
GPS: 50°37'.389N / 003°26'.484W
W3W: punks.tutored.nicer